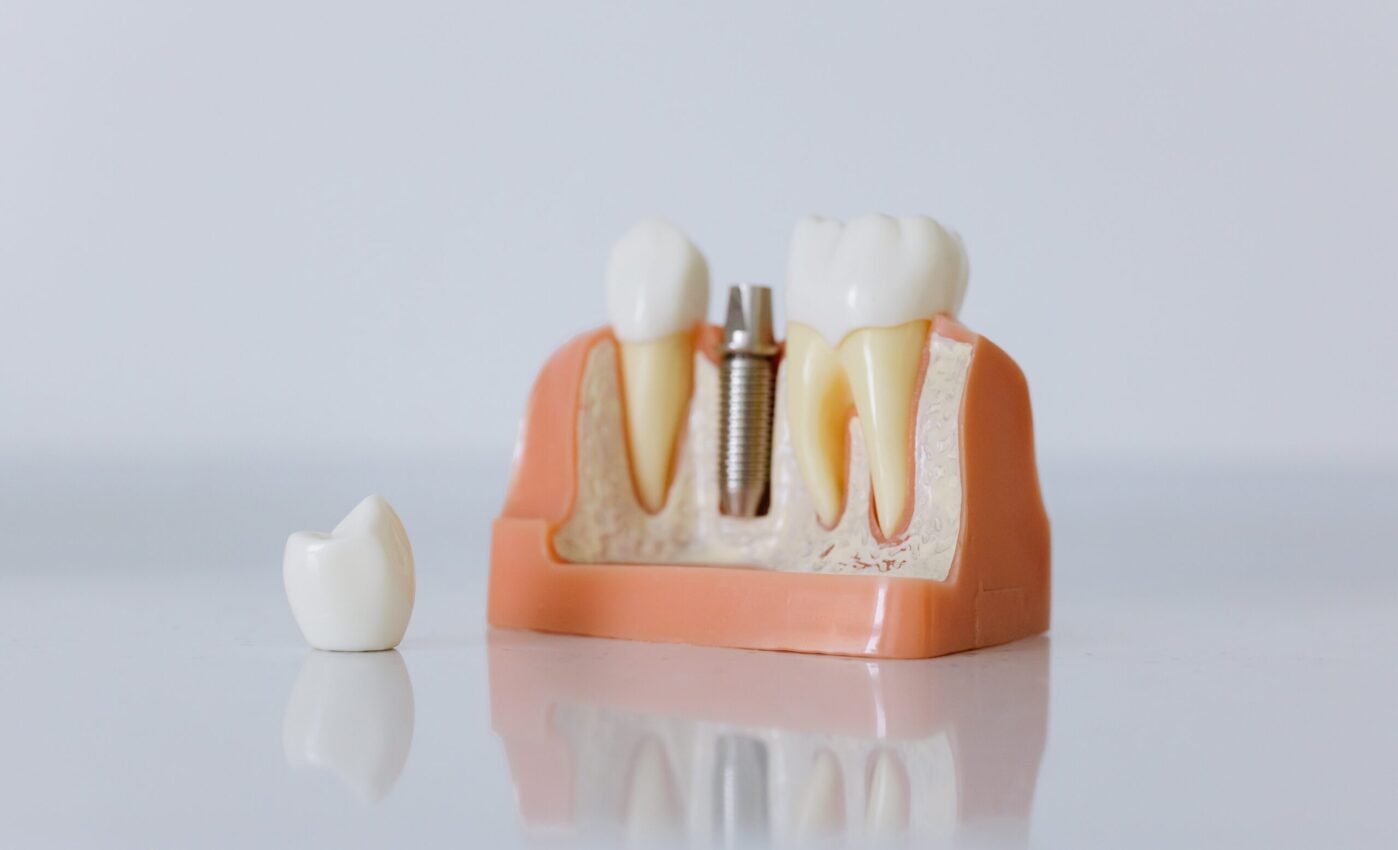 Dental Implants – Your Best Tooth Replacement Solution
9th June 2022
There's no doubt that losing a tooth can hinder your physical and emotional health, and your general wellbeing. Even the loss of a single tooth can throw you biting forces out of balance, and make everyday actions like eating and speaking a chore.
Whilst more traditional tooth replacement treatments like bridges and dentures can tackle tooth loss, when these are combined with dental implants, a superior result is achieved.
If you're thinking of Googling ''dental implants near me'', on your search for a reputable dental implant clinic, look no further than Innovadent Dental Clinic. Our Canary Wharf dentists have years of experience in transforming smiles with dental implants, and are skilled in tackling even the most complex of cases.
Today, we're looking at precisely why dental implants take the crown when it comes to tooth replacement treatments.
Dental implants are replacement tooth roots made from titanium, a material which is very rarely rejected by the human body. In over 95% of cases, dental implants treatment is successful and the failure rate is generally down to poor oral hygiene or engaging in habits such as using tobacco products.
Over the top of an implant goes a restoration, which can be a crown (for single tooth implants), a bridge, or dentures.
Why are dental implants the best tooth replacement solution?
Let's take a look at the main reasons why implants should be your go-to choice of tooth replacement treatment.
They become a part of the body
Perhaps the most extraordinary thing about dental implants is that once they've healed, they become a permanent entity in the body. This is made possible due to a process known as osseointegration (a word that sounds more complex than it is – don't worry, we'll explain)!
Once an implant has been placed, a period of healing (around 3-6 months) occurs, during which time, osseointegration occurs. This is simply the process whereby jaw bone cells merge together with the implant surface, welcoming it as if it were a real part of the human anatomy. The word osseointegration derives from the Greek word for bone ''osteon'' and the Latin term ''integrare'', meaning to make whole.
With the right care, they're permanent
In order to be successful, dental implants need to be well looked after just like your natural teeth. Your dentist here in London will show you how to get the best out of your brushing and flossing routine demonstrating how to clean thoroughly, but gently around the implant. As implants are also prone to gum recession, you will need to make sure you're not brushing your teeth too fiercely, as this may warrant treatment in the future.
By adhering to the right oral hygiene habits, your implant can serve you for your whole life long.
If you've been wearing dentures for several years, you might be familiar with slippages when you're eating tougher foods. Indeed, many people with dentures avoid such foods altogether.
However, as implants can now be used to stabilise dentures in place you won't have to worry about any movement when you're enjoying your food or in the company of others.
Implants preserve your facial structures (they prevent bone loss)
One of the problems that accompany non-implant based treatments, is the changes that come about with your facial structures.
As we discussed earlier in the blog, implants are subject to a process called osseointegration. It's this process that ensures the jaw bone remains stimulated and does not fall foul to atrophy, which is the decrease of bone or other mass, such as muscle in the body.
Once teeth become lost, the jawbone interprets this loss as a sign that it's no longer required to function. Consequently, it begins to shrink which can have devastating effects on the appearance of the face, particularly in the cheek and chin areas. As the cheeks become gradually more hollow and the chin begins to protrude, the face can appear old beyond its years, which can be extremely upsetting.
By opting for a dental implants-based treatment, your jawbone remains active and your facial structure is preserved.
Cutting edge 3Shape TRIOS scanner here in Canary Wharf
Here at Innovadent Dental in Canary Wharf, we're always looking to invest in the technologies that will streamline your experience as a patient.
One such example of this is our 3Shape TRIOS scanner, which has the following advantages for patients:
It easily captures 3D images of your teeth, without the need for uncomfortable impression putty. The 3 Shape TRIOS simply scans your teeth, and you're done.
It improves dentist-patient communication, generating an image of your teeth on screen right away once a scan has been completed. This visual aid allows you the patient, to better understand the condition of your teeth and jaw.
Restorations are completed swiftly, to a high standard and require fewer adjustments. This means you'll have your brand-new tooth or teeth swiftly.
We'll create bespoke restorations, specifically for your smile
When we come to create your crown, dentures or bridge, they will be completely made-to-measure. Everything we do at Innovadent Dental Clinic is geared towards the individual, as opposed to the patient, which means you can expect your restoration to be as unique as you are. The shade and shape of your teeth will be studied, so that we can accurately create a result that no-one need even know is a false tooth.
The takeaway
Looking for dental implants in Canary Wharf? We have two experienced implant dentists working at the practice, who have performed hundreds of implant cases throughout their careers.
If you would like to learn more about our team, please click here.
Contact a dentist in Canary Wharf today
Our friendly reception team are ready to take your call.
As we know our patients are busy people, we're open 6 days a week, helping you to get an appointment at a time that suits you. Contact us by phone, or by filling out our Free E-consultation form. We look forward to your visit with our Canary Wharf dentists.
Back to Blog