Dental Implants at InnovaDent Dental Clinic
31st January 2023
Dental implants are our preferred treatment for replacing gaps in our patients' smiles. They completely replace the root of a tooth with a piece of titanium, which provides your mouth with the function and aesthetic it needs to be healthy, and look natural. Dental implants are the only treatment that have the potential to provide a permanent answer to tooth loss (as long as you look after your oral health properly).
In this blog, we'll be looking at why it's important to replace missing teeth, and the different implant treatment options we offer here at our dental practice in Canary Wharf. The treatments you can expect to read about include: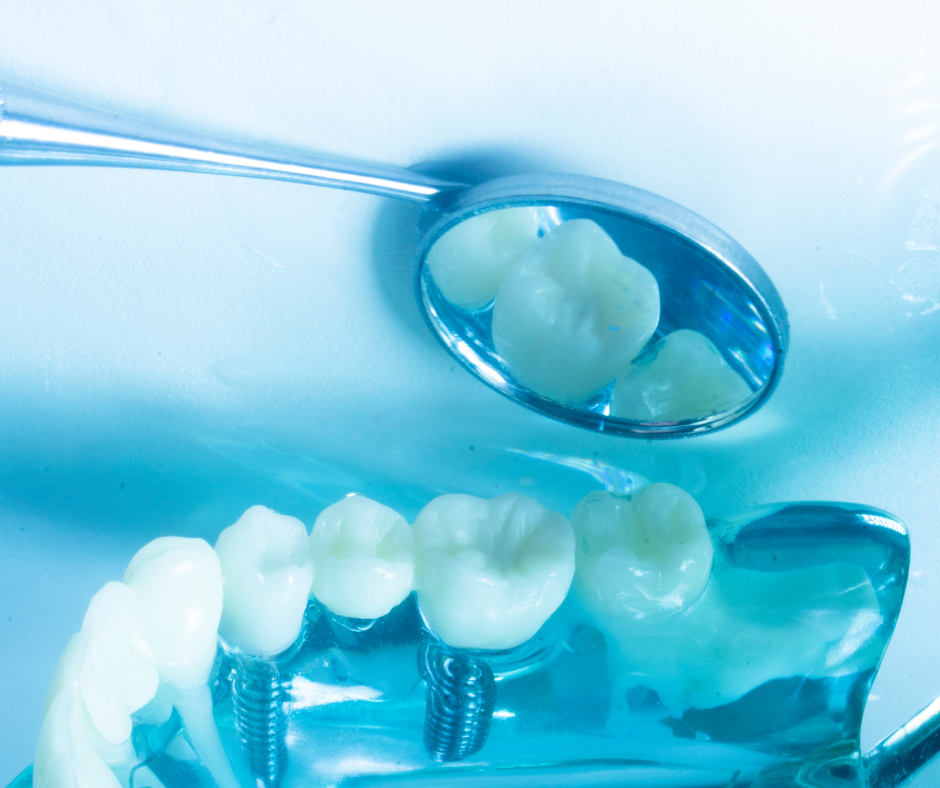 Gaps in your smile can cause all sorts of problems for your health and wellbeing. Losing a tooth disrupts your biting forces, which puts you at risk of tooth wear. This can also make it hard to chew certain types of food, and to find the confidence to smile. Meanwhile, dental issues like decay and gum disease are far more likely to occur when you have even just one missing tooth.
Dental implants are the premium answer to tooth loss, addressing virtually all the problems and consequences associated with missing teeth. Their high success rate of 98% makes them exceptionally predictable. Implants are fixed teeth. Their integration relies on maintaining healthy teeth and gums during the healing period. The most significant reason for implant failure is tobacco use, which can halt the healing process, as this can cut off the blood supply to the gums.
However, if you are prepared to look after your teeth during and after the healing process, attending regular dental check ups and caring for your implants and teeth, there's no reason your implant should fail.
Single implants replace individual missing teeth. We recommend single dental implants when one or two teeth are missing. A higher number of gaps in your smile might be more suited to treatment with implant-retained-dentures. We will go through your options during your consultation appointment.
Single implants are placed under local anaesthetic. Once they're inserted into the jaw, it takes around 3 to 6 months for the full healing process to take place. During this time, the jawbone grows around the implant, creating a bond that emulates that which exits between a real tooth root and your jawbone. It's this process (called osseointegration) that is pivotal to the permanent nature of implants. Once the jaw has healed, it is protected from the risk of resorption, which is when the jawbone recedes due to becoming obsolete.
The All-on-4 system is an amazing life-changing implant system that involves fitting a whole arch of teeth on a small number of implants (usually 4 or 6). But how can a full arch of teeth fit on so few implants, you might ask? It's a great question.
The implants are positioned at the sights in your mouth where there is a substantial amount of bone present. This means even patients with low jawbone density are suited to treatment. Here at Innovadent, we treat many patients who have been rejected for implants in the past, before the introduction of the All-on-4 method. We use a state-of-the-art CBCT scanner to locate the sites across your jawbone at which to place the implants. This equipment and software allow for pinpoint accuracy during the planning stages, which results in a long-term solution for multiple missing teeth.
Once any failing teeth have been removed during your dental implant surgery, we will place a temporary set of teeth over your implants. You can expect to go home with a new set of teeth on the same day as dental implant surgery, whilst you wait for your permanent set of teeth to be made, and for your jaw to heal after implant surgery.
Implant-retained dentures do precisely what the name suggests; they're a set of dentures that have been secured in place with implants. The use of implants removes the frustrating issue of dentures slipping around in your mouth. But that's not where the benefits stop. Implant-retained dentures are a fantastic fit for your mouth, as they're screwed in and out, rather than having to rely on suction to stay in position. They also won't become a bad fit for your mouth, because your jawbone won't begin to shrink due to lack of use.
Implant-retained dentures are incredibly popular with patients who wear dentures that are not secured with implants. Many of the patients for whom we have fitted implant-retained dentures tell us how different they feel compared with traditional removable dentures; they feel just like natural teeth and do not cover as much as your palate, which means you will have a better tasting ability when eating and drinking.
Contact us
Contact our friendly team for an initial implant consultation appointment with our implant dentists. Should we find you do not have the right bone density for an implant-based treatment, we can refer you for treatment that will promote bone growth, such as a bone graft or a sinus lift. However, treatments like All-on-4 allow for the placement of implants, even when there is very little bone present. We will be able to tell you what your options are once we have taken a full 3D scan of your jaw, and collected other diagnostic information, allowing us to gain full insight into the anatomy of your mouth, gums, bone and jaw.
Expect professional implant dentistry, performed in a safe, comfortable and state-of-the-art setting.
Back to Blog